New Construction: The Ins and Outs to Buying a New Home April 15, 2018

Whether it's Algonquin, Lake in the Hills, Huntley or Crystal Lake – building a new home can be very exciting, and it's very attainable for home buyers right now! With limited homes for sale on the market, new construction is becoming a very popular attraction.

Think about the benefits: you get a BRAND NEW home, you can pick out everything you want (flooring, cabinets, counters, etc), you can customize the layout….the list goes on!

But there are a lot of hidden secrets that people don't realize when buying a new home, and if you don't catch these secrets it can be costly. And there are unlimited options to weigh, which is often a bit overwhelming and stressful…Right?

I've worked for home builders for 9 years as a sales manager, and I've also sold new homes as a realtor. I can share a lot that I've learned over those years that will help prepare you if you're considering new construction home in Algonquin, Lake in the Hills, Huntley, or the surrounding areas.
1. Address Wants vs. Needs
Your budget may require you to make difficult decisions. It is natural to want all the features that you have dreamed of, but it is also critical to keep in mind that each item comes with a price tag. The builder's model home will showcase almost ALL of the upgrades. But guess what – you don't need them all.
Separate your list into "must-have" vs "nice to have" items. Once you know the total for the must-have items, you can then move on to the optional items until you reach the maximum budget. Remember that there will be unforeseen expenses as well, so include a cushion in your budget as a precaution.
2. Now or Later?
Home builders across Chicago will offers tons of upgrades to choose from. Once you've separated your wants & needs, you still have some tough decisions to make on upgrades.
If you're on the fence about a particular upgrade, you might want to consider doing it AFTER you close on the home (with a different contractor or DIY). This can be the case for things like lighting, appliances, countertops, or other cosmetic items. Also, there is nothing wrong with price shopping what the builder is charging. With most builders you won't be able to have another contractor do the work while you're building, but you can have them change it after you close on the home.
What is difficult to change later are the structural options, like 2 or 3 car garages, basements, or anything affecting the layout of the home. Those options you'll want to get done while building.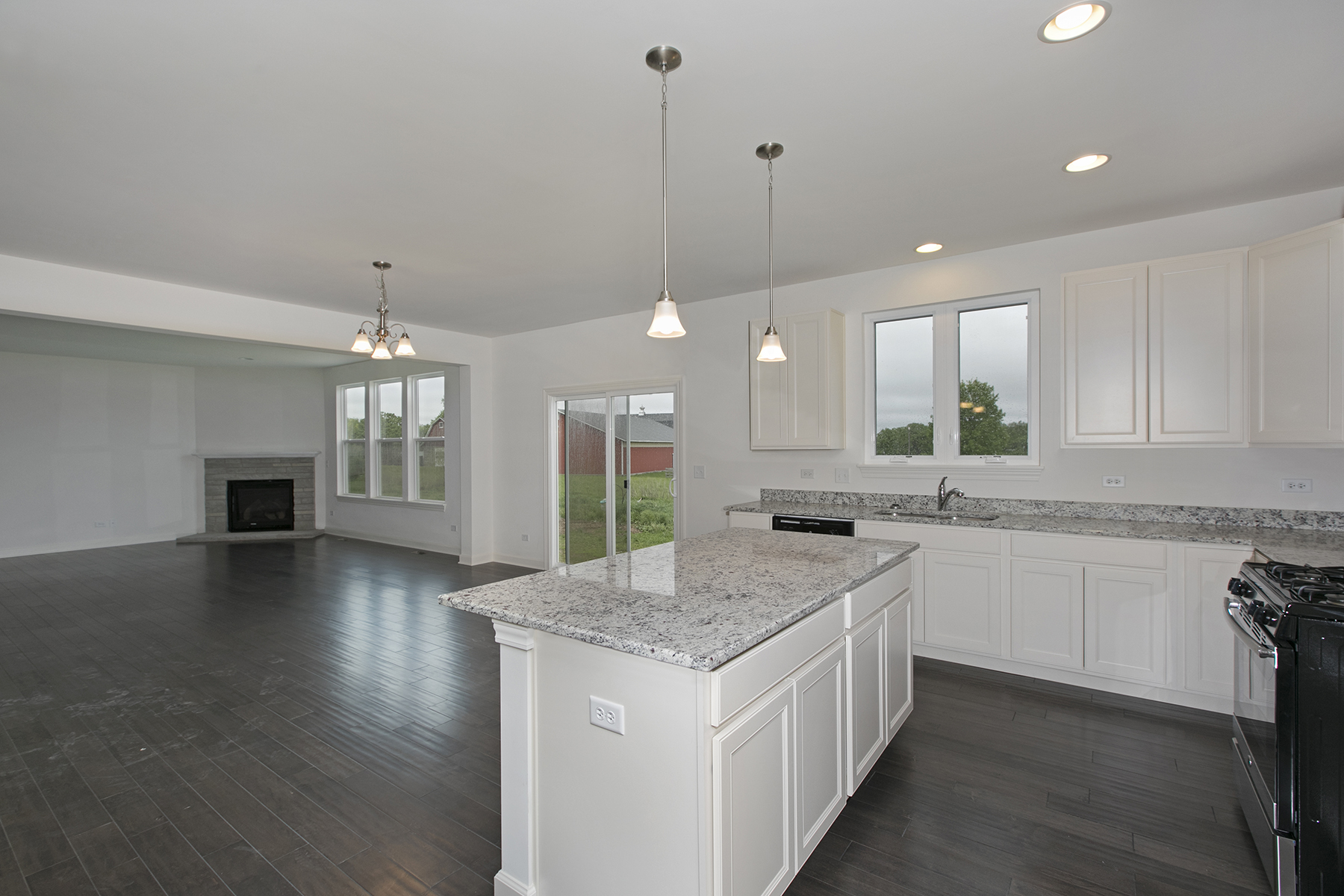 3. Communication and Documentation
It is important to ensure that you and the builder remain on the same page. A lot goes on in the planning and building phases, and this lends itself to miscommunication. Document all specifications and changes to building plans. If you verbally discuss anything, put it in writing to ensure that you both have the same information and that there are no misunderstandings.
4. Expect the Unexpected
Building a new home is a big deal, and there is a lot that goes into it. Think about all of the parties involved – you (the buyer), the builder, realtor, the city/village (inspections and permits), and all of the different vendors and subcontractors involved. There is a ton of paperwork, communication, and documentation (see above!)
With all of that said, it won't be a perfectly smooth process. Mistakes will happen along the way, so give the builder a chance to fix them or make it right. Delays will happen as well. Sometimes there is a shortage of materials or workers, you have labor strikes that come up at times. And the biggest uncontrollable of all – mother nature! Weather can cause all kinds of delays in the midwest!
Set a realistic expectation with the builder, give yourself enough time to let the home get built. If the builder says it'll be ready in 5 or 6 months, then budget for 7 or 8 months. And be sure to check in with the builder sales person along the way to get updates on progress.
5. Work Together
As previously mentioned, problems can occur with any new construction home. In some cases, you both will need to compromise to address a problem. Keep a good relationship with the builder and make the effort to understand the reason and viable solutions. Remember, the builder is human too, and you'll have a better chance of getting what you want by being nice and patient. By using a professional approach and working together on a fix, the construction of your new home will progress more smoothly.
Improving the New Construction Experience
The process of building a new construction home is certainly not an easy one, but it does not need to be an overly stressful one either. Begin with a practical approach to what you can and can not have in your property based on your budget. Keep good records and open communication with your builder before and during the building process. Finally, remember to be flexible and work with your builder to address issues.
In the end, you want a home that you will love and the builder wants a quality property to showcase. They want happy homeowners! Keeping these suggestions in mind will help you both reach your goals and lead to a less stressful experience.
For more questions on new construction, or for a list of new homes homes available in Lake in the Hills, Algonquin, Huntley or Crystal Lake,contact me at patrick@103realty.com or 312.217.4398. Happy house hunting! -Pat Kalamatas