"We'll Buy Your Home, Cash" September 11, 2019

You've probably seen the signs all over your town, when you pull up to a stop sign, or exit the highway. "We'll Buy Your Home, Cash" or "My dad buys houses" or "Annie Buys Homes". It looks like this...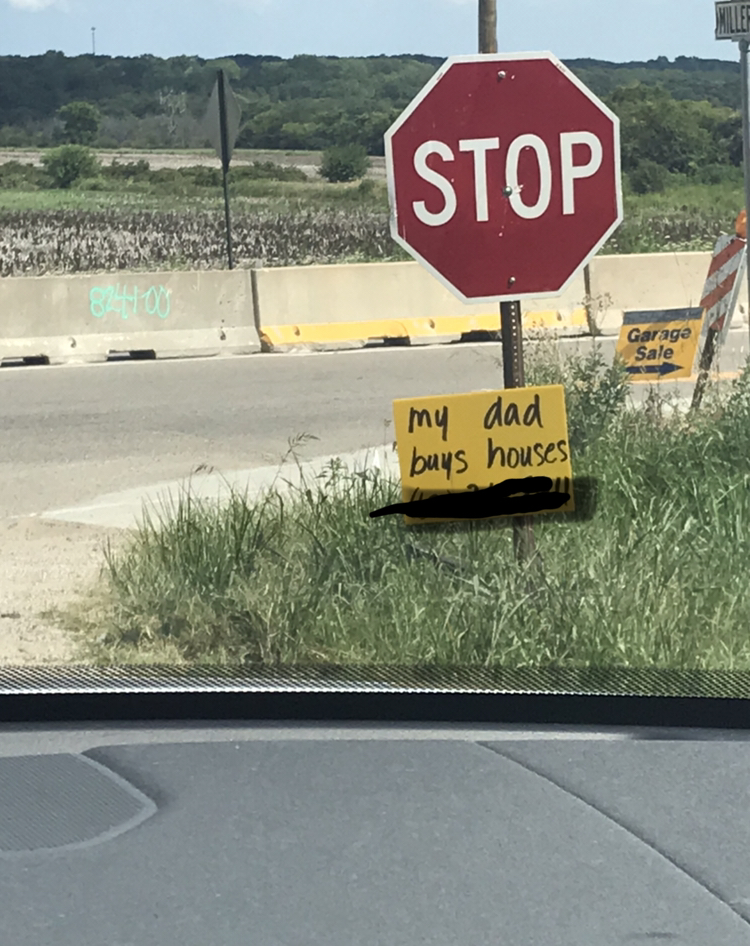 You're probably asking: who are these people, how does this work, and, what's the catch?
Let's talk about the who... Simply put, these are just real estate investors looking for off-market "deals". They come in a few different forms. They can just be local investors that post signs, or, there are also online companies (ibuyers) that offer a similar deal where they'll buy your home cash, sight unseen. They're looking to find "deals" before these homes get listed online, and they want to eliminate either party working with any realtors.
The big concern when working with these guys are that they can take advantage of sellers that don't have any market knowledge. The investors (or ibuyers) are looking to get to the sellers before the seller finds a realtor, or, can do their market research.
The reality is, we're in a strong housing market, and we have been for the last 7-8 years. Local Homes in Algonquin, Huntley, Crystal Lake and Lake in the Hills have seen year to year price appreciation for since 2011/2012. And anytime you're in a good market like we're in, you'll see more of these investors pop up.
So, how does this work? It's pretty simple. These real estate investors will literally buy your home for cash, As-Is, and close in weeks. They'll take any junk in the house. They may or may not do a home inspection. But that's it. No showings, staging, cleaning or decluttering.. You get your offer and you close... Seems easy right?
But ahh... there is always a catch. So what is the catch?
1. These investors or ibuyers are not offering you fair market value. In many cases, if you're working with a local investor and since they buy your home cash & as-is, you might get 70-80% of it's value...or a "fire sale". Because think about, they are going to either flip it or rent it out and hold it. It has to make business-sense for them, so why would they give you fair market? They need a DEAL for it to make sense for them, right?
2. Ibuyers (online investment/tech companies) might give you a better price than a local investor, but, it'll come with hefty fees. Ibuyers like Opendoor, Offerpad, etc have been known to charge 6-10% in fees, ON TOP of giving you 90-92% of your home's true value! Because once again, these companies have to make money and generate cash flow.
Scenario 1 with a local investor: If your home's fair market value is $300,000, an investor may offer you $240,000 cash (80% of fair market value) and a quick close. You'd sacrifice $60,000 in equity, for a fast close. And you still have to pay some closing costs.
Scenario 2 with an "ibuyer"... If your home's fair market value is $300,000, you may get an offer for $270,000-$280,000, which is a little better than the local investors But, keep in mind, some of these companies will still conduct a home inspection. ADDITIONALLY, you'll have to pay fees which can be anywhere from 6-10%. This reduces your final number from $270,000-280,00 range all the way down to the $250,000's...
Again, these are FOR PROFIT companies that have to make money and generate cash flow. Think of their costs: they have salaried employees with bonuses, investors, banks, office space, employee benefits, and a ton of overhead, all of which are costly. None of these companies are out there to get you the highest dollar possible for your home, nor are they able to. It just won't happen. They have to get a "deal" in order for it to make sense... Are you willing to give away this kind of deal? I wouldn't.
The above are just scenarios, and not any guarantees to what they will offer. It could be better, or worse! But it gives you the general idea of how it all works, and if you have any specific questions about your home's value I'm always happy to talk to you more. I sell homes in Algonquin, Huntley, Crystal Lake and Lake in the hills. And all over the surrounding area.
Hope to chat soon!
Pat
312.217.4398
patrick@103realty.com